---
MEN'S WEDDING BANDS

At Trios Studio we believe that the man's wedding band is more than an afterthought. The wedding band symbolizes the continuity of love and life. Make it something special by custom designing or selecting from our featured collections.
503-496-1285
Call for your design consultation

---
Custom design is for you when you have an idea or concept that you want to bring to life. Whether symbolic, sculptural or of unique materials, we can develop the design and make your ring to your specifications.

---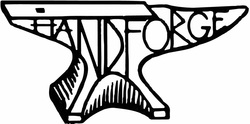 HANDFORGE is a metals studio in Portland, Oregon that creates their own Damascus steel and Mokume Gane to use in wedding rings and other accessories. Trios Studio is privileged to showcase this unique and amazing work. Damascus steel is a technique used in the middle ages that developed in Syria. It can have hundreds of layers of different steels in the billets that are created to make the rings from. Each piece is unlike any other, much like a fingerprint. Available at Trios Studio.
Click here for more info.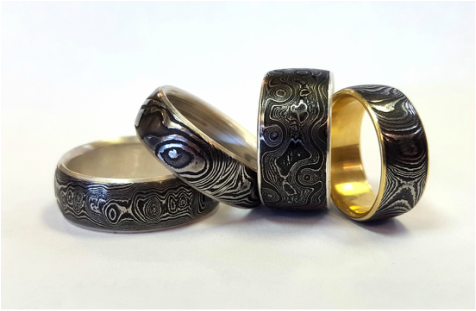 ---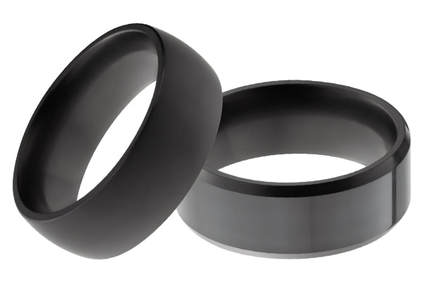 ABOUT ELYSIUM

The dark side of luxury
Proprietary technology now creates a multi-crystal black diamond matrix that resists scratching, lasts forever and maintains an artisan sheen that never fades. Step into the darkness of infinite perfection.
There is nothing else like Elysium BLACK Diamond in the world. It is more enduring than titanium, harder than tungsten and its timeless luster and beauty will outlast silver, gold and platinum. Elysium offers the first successful diamond jewelry rendered in black. It will quite simply outlast and outperform every other substance in its class. Traditional materials scratch and mar easily and struggle to hold up in any working environment - even in the mildest of conditions. Diamond in Black is forever!
Experience BLACK
As hard as diamond because it is diamond.
The BLACK collection is the result of decades of science, technology and art - driven to perfection by a relentless quest for the ultimate black diamond. Timeless and dark as the depths of the earth that forge diamond, Elysium BLACK jewelry brings drama and desire together.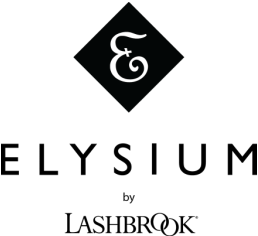 ---
CREATE-YOUR-OWN-RING by LASHBROOK
Trios Studio is an authorized, expert LASHBROOK retailer. Come see us to design your perfect ring with LASHBROOK technology.
Call 503-496-1285 for your appointment
.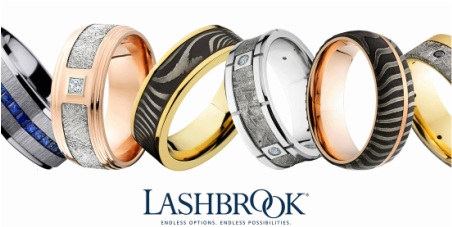 ---
Thomas Tietze, of Artisan Workshop, creates jewelry inspired by his love of nature, especially going fishing. His original interpretations of salmon, sea creatures, Sturgeon, mermaids, frogs, and so much more, are captivating in their accuracy and the spirit that emanates from them. Available in sterling silver and gold, his designs are to be worn and enjoyed.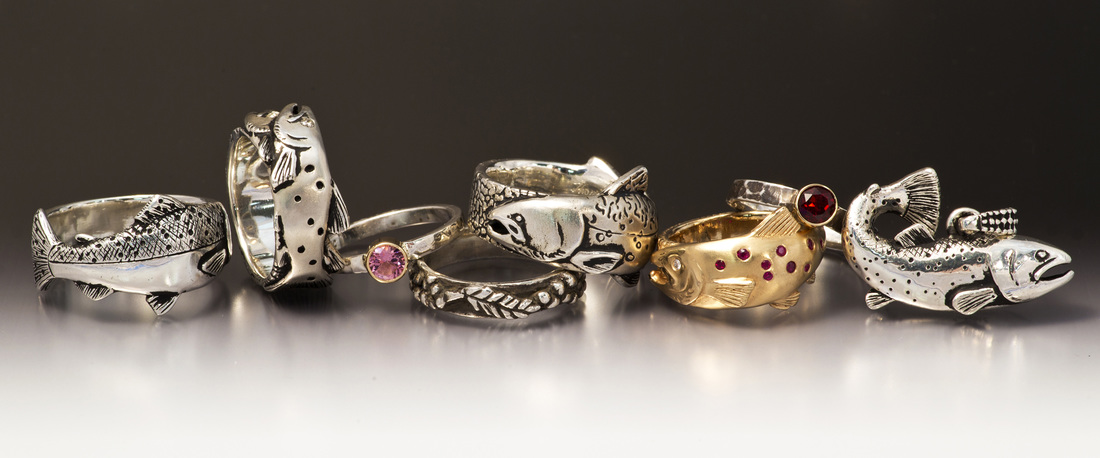 ---

We are privileged to feature the nature -inspired work of Conni Mainne, who hails from Mendocino, California. Conni's creations feature the graceful shapes of leaves, curves and repeating patterns, finished with wonderful textures and patinas. She works in 18k gold and 5% platinum bearing sterling to fashion jewelry that looks and feels good to wear.
Click here for more info.