503-496-1285
Call now to schedule a diamond consultation

---
DIAMONDS
---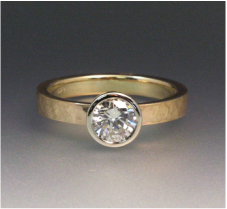 At Trios Studio we believe that education is essential to the process of buying the right diamond. We discuss your parameters which can include the amount you want to spend, ethical concerns, size, shape and quality. We take the time to compare the clarity of different diamonds with our microscope, examine the quality and symmetry of cutting and discuss the various attributes and suitability of each stone.
The issue about the origins of diamonds and whether they are conflict free is of concern to us as well.
In 2002, a coalition of governments, non-governmental organizations, and the diamond industry established the Kimberley Process to control the export and import of rough diamonds to eliminate the trade in conflict diamonds. Today 99% of diamonds in the marketplace are thought to conflict free. All of the diamonds we use are in this category.
But the only way to ensure 100% conflict free and ethical production of diamonds is to use
Canadian diamonds.
---