503-496-1285
Call now to schedule a diamond consultation
---
DIAMONDS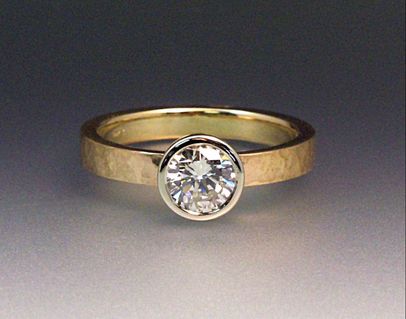 At Trios Studio we believe that education is essential to the process of buying the right diamond. We discuss your parameters which can include the amount you want to spend, ethical concerns, size, shape and quality. We take the time to compare the clarity of different diamonds with our microscope, examine the quality and symmetry of cutting and discuss the various attributes and suitability of each stone.
The issue about the origins of diamonds and whether they are conflict free is of concern to us as well.
In 2002, a coalition of governments, non-governmental organizations, and the diamond industry established the Kimberley Process to control the export and import of rough diamonds to eliminate the trade in conflict diamonds. Today 99% of diamonds in the marketplace are thought to conflict free. All of the diamonds we use are in this category.
But the only way to ensure 100% conflict free and ethical production of diamonds is to use
Canadian diamonds.
---
THE CUT GRADE

The CUT GRADE is sometimes overlooked when evaluating a diamond, but it is the most important in terms of fire, scintillation and "sparkle" -- what makes a diamond most beautiful. The grade is divided into three components: Cut, Symmetry and Polish. As in Billiards ,the geometry of the bounce of light within the cut diamond is essential. Ideally the light goes in, bounces off the facets at the proper angles and comes back at you. In a stone with less precise cutting some light will leak out the sides or bottom of the stone which reduces the sparkle. We are able to use a simple device, called a Cut Scope, to view the cut and symmetry of the stone. The diamond on the left is an Ideal cut. It shows the "Arrows" that indicate this. The stone on the left has a lesser cut grade which is expressed by the lack of distinct "Arrows", less symmetry and more dark areas showing in the pattern.

​
At Trios Studio we are able to evaluate EVERY aspect of the diamonds that you may consider for your wedding and engagement rings. We will prepare a showing of diamonds that fit your parameters of size, quality and price range and walk you through the fascinating exploration of diamond attributes.
​
Call for a diamond viewing appointment: 503-496-1285
---
---
BUYING DIAMONDS: the Internet Vs. Trios Studio

Deborah Spencer explains Trios Studio philosophy of diamond buying in this informative discussion on buying diamonds in today's world. It includes information about
CANADIAN DIAMONDS
as well.
---