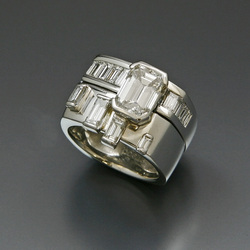 "My white gold ring is turning yellow--it needs to be "dipped"." It took me awhile, early on, to know what that observation and request actually meant. The yellowing, which usually starts at the back of the ring shank, is actually the real color of the white gold showing after the rhodium plating has worn off.

Most white gold, silver and platinum jewelry purchased in retail stores is plated with rhodium, a very precious metal that is related to platinum, in order to make it all look shiny and bright! The actual color of each white metal is not so chrome like. Sterling silver is the familiar soft grey, platinum is a pure grey and white gold is actually a warm grey because it is 59% elemental yellow gold.

In order to bleach the yellow gold to appear white other metals are alloyed with it including nickel, fine silver and zinc. Palladium and other metals are used as well. The use of rhodium plating to make all of these metals appear similar is mostly cosmetic and does not affect the durability of the design.

I usually do not rhodium plate my custom designs because I appreciate the color distinctions of the various metals and am aware that using it sets up an unrealistic expectation and the need for re-plating to maintain the whiteness. Some designs benefit from it. For example when you have accent diamonds or pave and the area under and around them may cause a reflection that would be more beautiful in a chrome white. In that case the area is often recessed and not subject to the friction that will wear it away.

We are always happy to discuss the pros and cons of any jewelry making technique and help to figure out the best ones for your project. See you at the Studio!