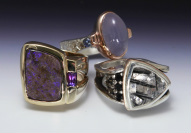 "How do I know it will come out the way I want it?", is the question I have been hearing lately. Yet, "What I want" is vague or not defined. "I'll know it when I see it, but I haven't seen it yet", is another comment. "I'm surprised I haven't found what I want yet. I thought I could just walk into a jewelry store and find it", yet another. I have engaged all of these people with the same idea..."Let us help develop your ideas and then create the piece you really want. This is the way you will be most satisfied with the outcome."

At Trios Studio, I find this to be the most creative and satisfying part of what we do. Consulting with people, drawing out their ideas, developing concepts, sketching potential designs, selecting materials and techniques, carving the wax model, getting client approval, and producing the entire piece in studio, is what we do best. Presenting the finished creation and hearing the amazement that "It's exactly what I wanted!" is the icing on the cake.

"How do I know it will come out the way I want it?". The answer is in the previous paragraph. We are extremely experienced at figuring out what you want and making it happen. It is part of our process and you are part of our process. There are no surprises because you are involved. Deb, Kathe and I have been doing this same process with hundreds of people for over thirty five years and we are good at it. So the real answer is, "Trust the process, it works."

I'm looking forward to this year and all the people that will find us. I love to hear, "It's even better than I imagined it would be!"
So stop by and we can work together to find out what's possible.

See you at the studio!