From the Bench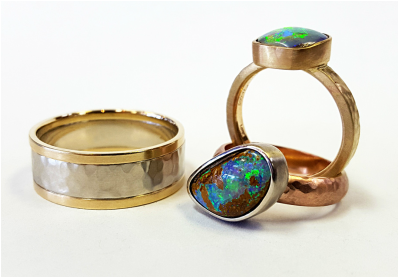 Trios Studio is ten years old. Deborah, Kathe and I have learned so much in this endeavor, including things about so many of our enthusiastic and loyal clients, many of whom have became friends. I know we would be nowhere without all of you. I don't think that any of us realized how important it would be to our clients to be able to take care of their jewelry in our studio. Well, we're here to stay so keep on bringing your treasures to us!

As of this writing, I have just attended ,and enjoyed, the 9th Annual Portland Jewelry Symposium. I have come away with ideas to improve our studio, website, client relationships and more as we move into the next five years. Everyone who attended seemed energized to implement changes large and small.

The emphasis was on ethical and transparent supply chains, especially in precious metals. Trios has always used Eco-gold and silver and we offer the choice of Fair Trade Gems. As we educate our patrons on the benefits of using these materials in their projects we are giving grass roots support to this movement in the jewelry industry. We tirelessly tell the success stories of the communities in developing countries that have agreed to these Fair Trade protocols. This trend is good for everyone. Ask the businesses that you support with your dollars to support Fair Trade practices and we can all take steps to be part of the solution. As I was reminded, change can start with one small thing you do, so just do it!

See you at the Studio!